My grandfather, Kevin Clear (aka JK), died when I was 9. An enigmatic man, he left behind him two of the most influential things in my life. The first being his family, the second this strange manuscript entitled Invitation to Ithaca.
The Clear family is who my work is dedicated to, with Ithaca as the muse.
My grandfather's legacy has provided a mystery that I have been trying to unravel for many years now. When I set out on my quest "In Search of Clarity", it has been in part to discover the meaning behind my grandfathers work and to honour the essence of this wonderful family.
Every July since his passing in 1989, the family has met on a remote hillside in Wicklow to commemorate JK. It is a place he loved to roam and where his ashes were finally scattered. Over the years a ritual has spontaneously developed which involves a reading of Ithaca – not the manuscript in full, but a poem translated by my grandfather from the Greek poet C.P. Cavafy. This poem inspired his own work and has left an indelible mark on the family. We gather, we read and then we retire to a nearby field or house to eat together. It is a simple affair, but to me this event has always represented a unique time of love and wonder.
At first I didn't understand what Ithaca was, but after a time it started to seep in and infect my soul with a mysterious allure.
ITHACA
When you set out for Ithaca, ask that your journey be long,
full of adventures, full of things to learn.

Pray that your journey be long, that there may be many summer mornings,
when with what joy, what delight,
you will enter harbours you have not seen before.

Have Ithaca always in your mind. Your destination is to arrive there,
but do not hurry your journey in the least.
Better that it may last for many years,
that you cast your anchor at the island when you are old,
rich with all you have gained on the way,
not expecting that Ithaca will give you wealth;
Ithaca gave you that splendid journey.

With out her you would not have set out.
She has nothing more to offer.
And if you find her poor, Ithaca has not deceived you.
You have acquired such wisdom, so much experience,
that you will have already realised what these Ithacas mean.

---

Translation by Kevin Clear
For many years this was just a poem that was read and a reason to gather as a family. I had not yet caught up with the meaning behind it. It was just a poem that JK had translated. Then in 2011, the manuscript for Ithaca resurfaced. Six red folders, some sections composed by typewriter, the others still in handwriting. This was a book that my grandfather had written in collaboration with the eminent psychiatrist Ivor Browne. It was something they had worked on together right up to the point of his death. But I didn't know this at the time.
It wouldn't have meant much to me had I not drawn a portrait of JK several years before. At the time I was trying to progress my drawing skills and frustrated by my recent attempts to draw pretty women I decided to try something different. It's embarrassing to admit but I wanted to make something beautiful, and I thought drawing models that I found attractive would make an interesting piece of work. From hindsight I can only admire my naivite, but what it lead me to was the conclusion that beauty can be sought in less conventional places. The interest of the subject is informed by things that lie beneath the surface and perhaps the bearded old man has something more to say. It was then that I found a photograph of my grandfather from the 70's that fit the bill.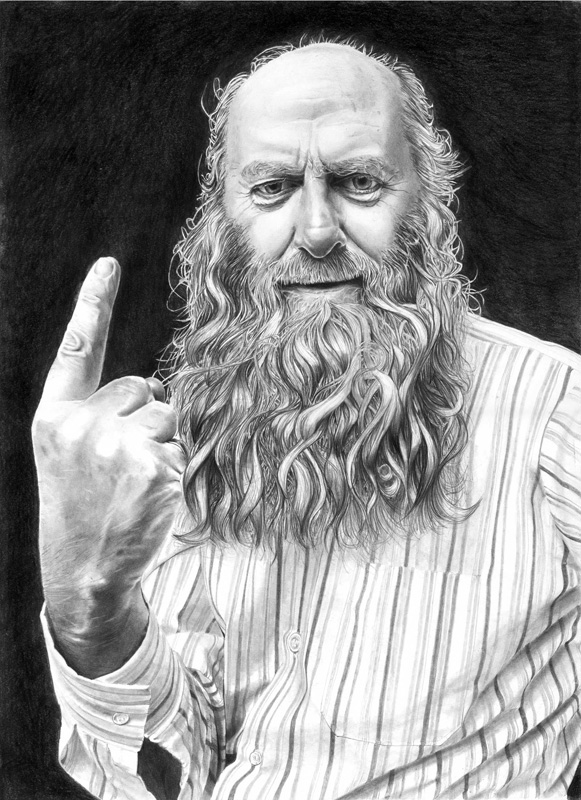 I spent 30 hours on that drawing and during this time I found a powerful curiosity bubble up within me. It was a very meditative process and with so much time in a deeply focused state, the mind tends to wander to interesting places. You cannot help but wonder about the nature of the person you are drawing a portrait of so intently and it happened that I had several interesting "conversations" with my late grandfather. A phrase he imparted that stuck with me was,
"If success should ever find you, remain humble in the face of it all."
Much more "passed between us" during those drawing sessions, but it was that phrase championing humility that left a mark and now serves as guiding tenet as I proceed.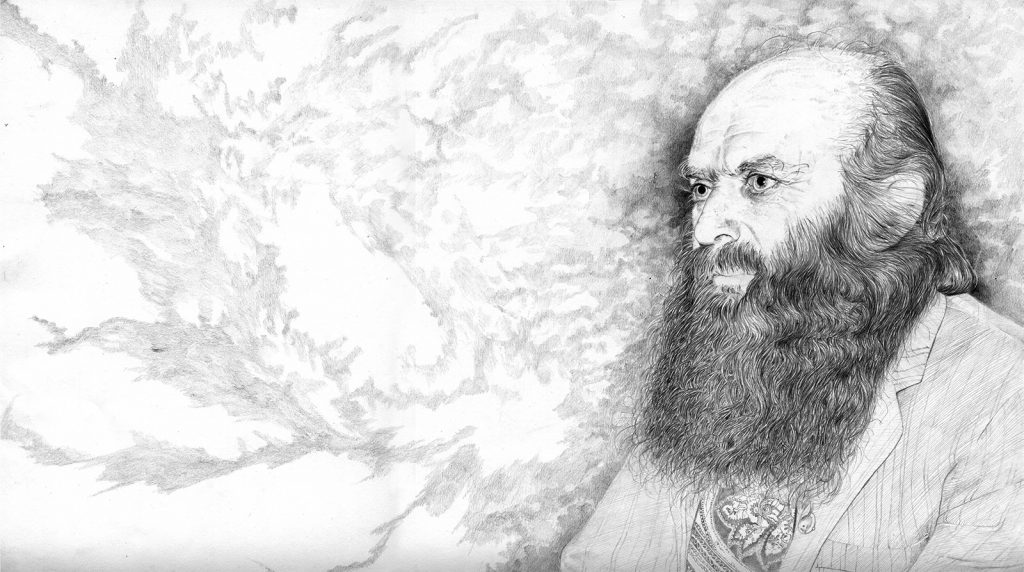 Six years later I sat to draw him again under a different context which I will cover some other time. It was during this period that I unearthed the fabled Ithaca manuscript. All this time it had been collecting dust on a shelf in the house, and so its discovery by a boy trying to understand his late grandfather felt like finding a sacred artefact lost to the mists of time until now.
I did not immediately read it, but instead held it in a kind of revered awe that I had to circle around a bit before exploring it more fully. My mother had read it at some stage and found it hard going. I guess a part of me did not want to read it, find it turgid and be greatly disappointed. The other reason I didn't read it was that I was engaged in a university course on drawing and visual investigation which placed a lot of demands on my time. So instead I used the manuscripts as a source of visual and thematic reference to help inform my drawing projects.
Another six years would pass before I finally read 'Invitation to Ithaca'. By this point, Ivor Browne, co-author of the work had contacted my mother to enquire after the manuscript as he had lost a copy of his own. My mother involved her sister Michele and together with Ivor they looked at the possibility of trying to get Ithaca resurrected and published.
Work had ceased on Ithaca after my grandfather passed away in 1989 before its completion. Ivor was now in his late 80s, and this seemed like an effort to tie up some loose ends. It was uncertain how much work would be needed to finish Ithaca, and whether the material would even be relevant almost 30 years later, but it was at least worth trying. After all, Ivor and Kevin had spent many years in discussion and travel pursuing the inquiry set out in Invitation to Ithaca, so that deserved to be honoured in some way.
Ivor already had two books published (Music and Madness, 2008. Cork University Press. The Writings of Ivor Browne, Steps along the road – the evolution of a slow learner. 2013. Cork University Press) and a documentary on his life was soon to be aired (Meetings with Ivor, Feb 2017), so hopefully this should have some sway.
Ivor, with the help of his daughter Diane, set about the work of transcribing the manuscript and filling in any gaps to bring the work to completion. He wrote a concluding chapter and a new preface which I will include here to share a peek of the nature of the work.
***
Preface
My old friend and companion, Kevin Clear, died on 16 July, 1989, but regrettably this was not the beginning of our troubles in attempting to finish "Invitation to Ithaca." From the beginning this was a joint effort, although Kevin undertook the task of the actual writing of the book in his wonderful colloquial style.
For a number of years I used to go out several times a week to work with him in his fine home in Greystones and he would make notes of our conversations, which he would then incorporate into the text. This was the way the writing of the book continued over a number of years until, unfortunately, about 1982 his health began to deteriorate. It was around that time that he started to have a series of minor strokes that, sadly, increasingly affected his ability to write.
Nevertheless he battled on, still struggling to continue writing, until we approached the final major stroke in 1989 that ended his life.
Painfully feeling the loss of our friendship and fruitful cooperation, I nevertheless decided to try to finish the work, although I couldn't hope to equal his colloquial and colourful style of writing.
Then, another misfortune intervened, I lost the only draft copy I had of the work. I thought that this was the end of it, and that all the work we had done would just have to be consigned to history.
Then after several more years, I happened to run into his daughter, Michelle, and was delighted to find that she had, after all, a copy of the book up to the point where he could no longer continue to write. I decided then to have another go and with the help of my daughter, Diane, we got down to the job of editing the work which was in itself a fairly major task, as there was a good deal of repetition that needed to be trimmed down. This left me with the task of writing a short concluding chapter to complete the work.
In the opening paragraph of the chapter – "All These Ithacas Apply", Kevin returned once again to speak about our purpose in trying to write this book in the first place. I don't think I can possibly come up with a better statement than what he wrote at that point. Also, it seems only appropriate that he should, after all, have the last word.
"Our invitation to the reader was to share with us the experience of a journey, we promised not wealth, but tried to describe what its value has been for Ivor and me. We would hope that every reader will make his or her own assessment. If that should be no different from ours then our enterprise has not been totally successful. We aimed to stimulate rather than to inform. Total success comes when the readers have been encouraged to review their own experiences of life in their own societies; and their concerns, their fears and their hopes for those societies and for the global society in which, for good or evil, we are all now entrained."
****
I have just contacted my mother in order to clarify a few things about the series of recent events relating to the manuscript. She informed me that the attempts at getting 'Invitation to Ithaca' published were unsuccessful. Having tried Ivor's current publisher, Cork University Press and being declined, Ivor tried another to the same response. The difficulty being that this manuscript is written by a man that died almost 30 years ago and with Ivor as collaborator it places the book in a strange position. If Ivor had written it himself, things might be different. The second publisher commented that although the writing style is exceptional, they do not publish these kinds of books.
As is a common problem with trying to get published, if the marketing department cannot place the title, then it goes nowhere. If even Ivor cannot get this published now, as an established author and with the current media attention on him based on the recent documentary of his life, then the prospects don't look great for Ithaca the book. The possibility of self-publishing is there but there isn't too much impetus to try that route now.
I am not too concerned that this effort to publish was unsuccessful. I understand in a sense why it was rejected. It doesn't fit into a clearly defined mould. It is not concretely one thing, penned by a living author on one conclusive topic. I see the difficulty the publishers might have in promoting such a book.
However it does contain far more precious insight than I ever hoped it might. When I finally did sit down with the newly transcribed manuscript last winter, my mind was blown. I was fascinated by the subject matter, the complexity of thought, the eloquent writing style. It is a work that I need to return to many times to fully understand and appreciate, but the fact that it was so complete and cogent was enough for me as it dispelled any fears that I harboured that it might be a turgid pile of incomplete non-sense. It is a work that reveals itself in less conventional ways. For me it is more than just a book. It contains some ineffable quality that transcends the words and pages, that can only be accessed through a personal journey of exploration and discovery.
That is a journey I found myself on before finding Ithaca, but with Ithaca now in my sights, it is a journey that I am thoroughly invested in.
If you, dear reader, have followed along this far, I hope that you might hear the call of Ithaca and embrace the invitation.